Archive » Issue No. 3 September 2015 » Editor's letter: Anna Zhiteneva About laziness, finance and clouds
Editor's letter: Anna Zhiteneva About laziness, finance and clouds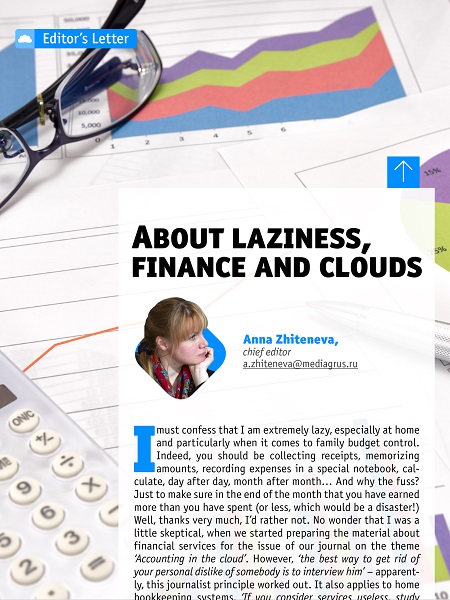 I must confess that I am extremely lazy, especially at home and particularly when it comes to family budget control. Indeed, you should be collecting receipts, memorizing amounts, recording expenses in a special notebook, calculate, day after day, month after month… And why the fuss? Just to make sure in the end of the month that you have earned more than you have spent (or less, which would be a disaster!) Well, thanks very much, I'd rather not. No wonder that I was a little skeptical, when we started preparing the material about financial services for the issue of our journal on the theme 'Accounting in the cloud'. However, 'the best way to get rid of your personal dislike of somebody is to interview him' – apparently, this journalist principle worked out. It also applies to home bookkeeping systems, 'If you consider services useless, study them carefully...' Taking a deep dive into the subject of personal bookkeeping, not only did I become aware of my own ignorance in the issue but also chose myself a finance accounting service. I can't tell you, which one, however. Finance is quite an intimate subject, the likes and personal requirements for the service are very individual, so choose one to your liking. Our section Clouds for life starts with a review of Russian cloud home bookkeeping services.
As a matter of fact, dear reader, we introduced to our journal three topic sections to simplify the presentation of the material. These are: Clouds for life, Clouds for business and Cloud projects for investment.
The first section is devoted to cloud services for personal use – for individuals, households, leisure and everyday life. The second section includes materials about cloud technologies and services, which one can use for business for the good of the company and the common cause. In this issue the section Clouds for business contains publications on services helping to keep the company's accounts, make payments, control workflows and projects, assess the potential creditors, etc.
The third section – Cloud projects for investment – focusses on startups and investors. The top executives of technology parks tell us about the opportunities and prospects opening up before their residents, share their experience of investing in cloud projects and provide tips and advice for beginners.
The creators of cloud startups who consider their project successful, outline their company's development milestones, the building of their team, describe the features of creating the services and details of their relationship with investors. Under the heading Startup: the mistakes of others (obviously, the heading Startup: the history of failure would have sounded unduly tragic) you will find the stories of cloud projects that fell short of the creators' and investors' expectations. Naturally, the reason we created this section was not to make the beginners in cloud business shrug and snort presumptuously, 'No way might it ever happen to us'. Nor was it created to allow rivals gleefully rub their hands. The stories of failed projects provide an opportunity to analyze the situation and to take advantage of other people's experience that might help to avoid some of the blunders. Success stories tend to be individual. There is no general recipe. But business failures often result from the same mistakes and, as you know, smart people use the awareness of other people's mistakes for their own good. They say it can be quite enlightening... Enjoy your reading!
Comments (0)